Dioxin Monitoring System (GT90 Dioxin+)
The Perfect Solution for Dioxin Sampling
The GT90 Dioxin+ is designed specifically for the long-term sampling of dioxin emissions. The automatic system represents the cutting-edge technology for dioxin sampling and fulfills all requirements of the dioxin measurement standard. Because dioxins can be harmful to health, authorities have imposed emission limit values that need to be monitored. Sampling is done in conformity to the European standard EN1948-1. GT90 Dioxin + is MCERTS certified, and the conditions stated on MCERTS certificate complies with QAL1: EN15267-1, EN15267-2:2009
The system is the perfect solution for the continuous isokinetic sampling of hazardous organic compounds in industrial and domestic waste incineration plants. In addition to dioxins, the system is capable of sampling furans and other persistent organic pollutants (POPs), such as polychlorinated biphenyls (PCBs) and polycyclic aromatic hydrocarbons (PAHs). To get even more out of the system, the GT90 Dioxin+ can also be equipped with ParTrace option, enabling heavy metal and fine dust collection.
To gain more knowledge on emissions monitoring, download our free Emission Monitoring Handbook:
Unparalleled Dioxin Measurement Limits
The GT90 Dioxin+ was designed to sample even the lowest dioxin and dioxin-like compound concentrations in harsh industrial environments, even in subfreezing conditions. The system has been performance tested and validated, allowing measurements down to 0.0003 – 0.252 ng I-TEQ /m3. The system can withstand dust loads up to 150 mg/m3 and velocities up to 30 m/s without any effect on the performance.
Key benefits
Long-term isokinetic sampling
Conformity to EN1948-1
A sampling of dioxins, furans and other persistent organic pollutants (POPs)
POPs such as polychlorinated biphenyls (PCBs) and polycyclic aromatic hydrocarbons (PAHs)
High sensitivity
Availability of 100%
Cutting-edge Design
The GT90 Dioxin+ consists of a heated sampling probe unit with zero pressure probe tubes, heated line and control cabinet.  The system has titanium probe tubes and cartridges as a standard. For very harsh measuring point conditions optionally we can provide heated exchanger and sampling probe unit valves also made from titanium for very harsh measuring point conditions: In this case, all materials in contact with the sample gas from the tip of the probe tube to the cartridge would be titanium.
The sampling probe unit includes automatic blowback and probe cleaning features. The system can also be equipped with remote access and control, allowing e.g. remote calibrations, leak tests and data download during operation. The used dilution method technique allows working without any flue gas condensate as only a dry cartridge will be transported to the laboratory for analysis.
Technical features
Automatic system designed for continuous operation
Heated sampling probe unit and heated line
Sampling velocity from 1.1 to 30 m/s
Designed for industrial use even in harsh conditions
Withstands dust content up to 150 mg/m3
Dilution method using dry cartridges
Carefully selected materials
Remote access and control
Dioxin sampling requirements in Waste Incineration
BAT (Best Available Technology) Conclusions for Waste Incineration set new BAT-associated emission levels (BAT-AELs) for the dioxin-like PCBs. The main aim of the WI BAT conclusions is to reduce both air and water emissions from different waste installations. The revised BREF defines the technical basis and BAT-associated emission levels (BAT-AELs) for national authorities in the EU to set operating permits for installations. The BAT-AELs work as a framework for authorities to set plant-specific ELVs, i.e. Emissions Limit Values. You can read more in-depth report here: WI BAT conclusions published – key findings in emissions monitoring
To read more about emissions monitoring and our solutions, visit here.
Read More
You can also
contact us
directly. We would love to help you with any questions regarding emission monitoring and gas analysis.
GUIDE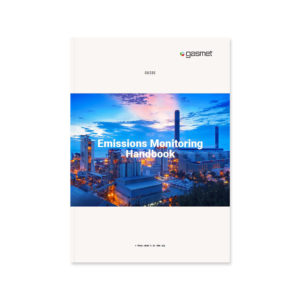 What you need to know about emissions monitoring
After reading the handbook, you will be familiar with:
> Industrial Emissions Monitoring & Suitable Technologies
> Quality Assurance
> WI BAT Conclusions for waste incinerators and co-incinerators
> LCP BAT Conclusions for large combustion plants
> Gasmet's Solutions for Emissions Monitoring
Increase your Emissions Monitoring knowledge by downloading the handbook free of charge!