DX4015 – Portable analyzer for humid conditions
Key Benefits
Measures gases in wet conditions, such as in swamps or in humid industrial settings​
Built in pump – no need for a separate sampling system​
Suitable for field conditions​
Simultaneous measurements of all gases
The DX4015 empowers professionals to monitor gases in environments that have typically been challenging to conduct measurements. Thanks to its heated sample cell, the DX4015 can be used in humid conditions – with exceptionally low detection limits.
Built for the wet stuff
Gasmet DX4015 is a portable FTIR gas analyzer for ambient air analysis. The sample heats up to 50 °C, which makes it possible to conduct measurements in humid conditions. The key features of the Gasmet DX4015 include a high sensitivity sample cell for the lowest possible detection limits and a built-in-pump, which means that there is no need to use a separate sampling system. The analyzer can be powered with 12 VDC from for example an external battery, so it can easily be used in field conditions where mains power is not available.
These are the specs
Cell temperature: 50 °C
Sample pump: 1.5 l/min (ambient air)
Power: 100-115 OR 230 V / 50-60 Hz 12 VDC
Power consumption: 300 W (max)
Operating temperature: 0 – 40C
Interface: External computer (RS-232C cable)
Water vapor (V/V%): 0 – 5%
Sample cell volume: 0.4 liters
Measurement range: sub-ppm to % -levels
Wavenumber range: 4200 – 900 cm-1
Wavelength range: 2.5 – 10
DX4015 back panel
Sample line connections
Connectors: Inlets Swagelok 6 m, Outlet Swagelok 6 mm
Manual valve for choosing between Sample in and Zero in

Sample in is used by the internal pump to draw in sample gas to the sample cell
Zero in bypasses the pum and goes directly to the sample cell
Turning the valve to Sample in opens that inlet and closes Zero in and vice versa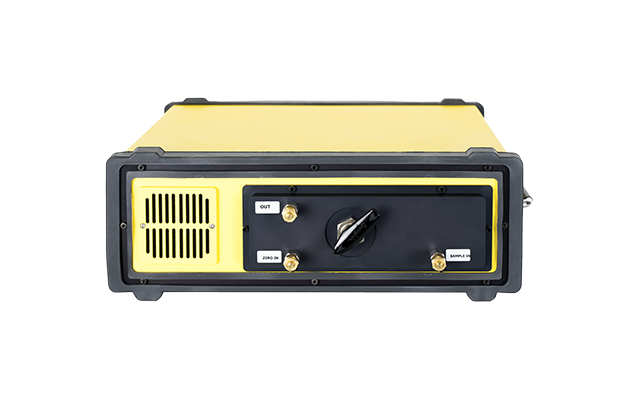 DX4015 front panel
Connections for:
Power – 230 VAC or 12 VDC
RS-232 connection to computer
Purge gas inlet for purging the internal optics of analyzer with N2

This is not necessary in normal operations but is an option when maximum accuracy is needed

Power on/off switch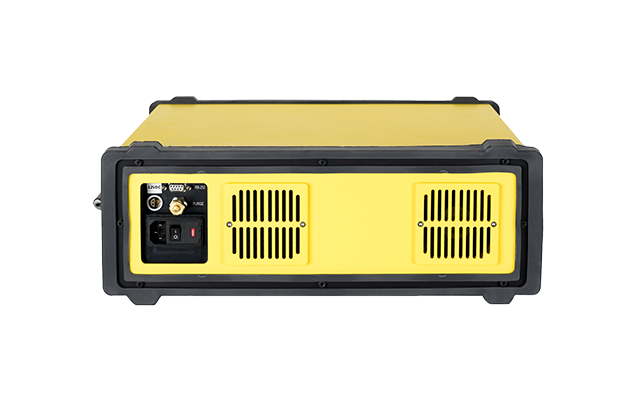 Operated with user-friendly software
The Gasmet DX4015 is operated with Calcmet software running on an external laptop computer. This provides a flexible and easy-to-use user interface for taking measurements and viewing on-line results. The software analyzes the sample spectrum using a sophisticated algorithm. It comes with an easy-to-use interface allowing simultaneous viewing of concentration results, sample and reference spectra and time trends for analyzed gases. The results are available within seconds.
Ability to identify unexpected gas components
While many instruments are tuned to look for one target gas, it can be just as vital to monitor the unknown gas(es) present. This is where FTIR-analyzers tend to beat the daylight out of traditional gas detectors. With the Dx4015 you can detect hundreds of compounds at once – even the ones you weren't expecting to bump into. DX4015 is often used for environmental research. Visit our Greenhouse gas themed virtual booth to hear more and meet our experts.