If you are involved in medical waste incineration, Gasmet can be a reliable partner that fits your budget. We can help make sure that your system meets all the relevant legislative requirements, and our systems are suitable for use with any type of medical waste.
Waste incineration is an attractive solution for both large and small hospitals
Every day, your hospital saves lives. You protect the health of your community and the people living there. But hospitals also produce a lot of waste. Every day you need to safely dispose of needles, gloves, tubing, wipes, bandages, and many other items. To solve this problem, many hospitals choose to incinerate their waste. Maybe you're already doing that. Incineration is a very attractive solution because it substantially reduces the volume of waste and sterilizes any remaining pathogens.
A Gasmet system works seamlessly with any kind of incineration plant that deals with medical waste
There is one big drawback of waste incineration: pollution. Burning medical waste creates environmental pollutants, which need to be monitored. You're already helping the people in your community when they come through the front door. We make sure that you're protecting them when the waste goes out the back door. If your hospital is running a small waste incineration plant (SWIP), we can be an ideal partner. Our emissions monitoring systems are suitable for testing any type of medical waste, and can be installed quickly and easily, even on an existing incineration plant.
We help make sure that your waste monitoring meets the requirements of all relevant legislation
If you're already burning your medical waste, you know that the legislation can be complicated. In addition, it is regularly updated, so you need to be vigilant to make sure that your emission monitoring system meets regulations now and into the future. As your partner, we can offer any help that you might need to make sure that your emissions monitoring system is compliant with all current and future regulations.
One of our most popular products, the CEMS II e, can simultaneously measure more than 16 different emission gasses in its standard configuration, and is also highly adaptable. We also offer low, predictable installation and maintenance costs, so you can easily plan your monitoring budget. You can sleep well at night knowing that you have a Gasmet system monitoring all your waste emissions.
| | |
| --- | --- |
| | Contact us to learn more about how we can help take care of your emissions monitoring needs. |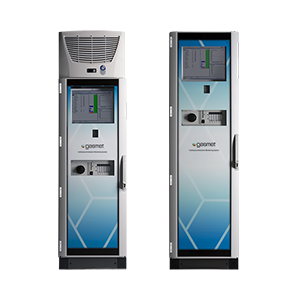 CEMS II e – Reliable emissions monitoring
We built CEMS II e, so that emission monitoring would not need to keep you awake at night. That you would never need to wonder whether your emission monitoring equipment will meet the standards and requirements of tomorrow.