Waste-to-energy (WtE) or energy-from-waste (EfW) through incineration of waste is, on the one hand, an effective way of producing electricity and heat, while on the other hand, it is disposing of possibly hazardous or unrecyclable waste. Its purpose is not to compete with waste recycling, reuse, and prevention, but to complement them. After all, incineration not only reduces the amount of hazardous waste but may also generate energy through the gases released in the process. Read about our solutions for waste-to-energy plants!
Typical Types of Waste Incinerated
Most industrial processes produce waste, some of which can be hazardous to public health and the environment if not managed properly. Despite the efforts to reduce and recycle hazardous waste from industrial processes, more than 400 million tons of hazardous waste is generated each year.
Hazardous waste is generated as a byproduct in the production processes of for example cosmetics, detergents, pharmaceuticals, household paints, phones, computers, and gasoline. Discarded commercial products are also an example of potentially hazardous or unrecyclable waste. Waste incineration also produces harmful gases that need to be measured.  Download our free guide on emissions monitoring to learn more!
The three most typical types of waste to which incineration is applied are municipal solid waste, hazardous waste, and medical waste. These types of wastes are either liquids, solids, or waste in containers.
Waste-to-Energy Plants
Waste-to-energy plants are waste management facilities that recover energy from waste, producing electricity and/or heat. These types of power plants are sometimes called trash-to-energy, energy-from-waste, or resource recovery plants. Hazardous waste can be incinerated at specific WtE plants or at plants with permission for co-incineration of waste at biomass boilers or cement kilns.
Many kinds of hazardous waste are fed to incinerators, boilers, and industrial furnaces essentially as received. These wastes are often difficult to handle because of their consistency or hazardous nature, so minimal handling is preferred.
Where possible, however, pretreatment operations are desirable to facilitate homogenization of the waste and continuous feeding to the combustor. Common pretreatment operations by the type of waste are:
Liquid wastes – blending and solids filtration
Solid wastes – screening and size reduction (crushing or shredding)
Wastes in containers – liquid-phase decanting and shredding
Waste-to-Energy Through Direct Combustion, Pyrolysis or Gasification
The delivery of heat from WtE plants can be conducted at much higher efficiencies than electricity-only plants. Those that operate in combined heat and power (CHP) mode will, therefore, continue to be superior to landfill. Waste-to-energy plants typically employ one of three technologies: direct combustion, pyrolysis or gasification.
Direct combustion burns waste that cannot be recycled, producing high-pressure steam that is converted to electricity using a turbine and a generator. Pyrolysis is the thermal degradation of waste in the absence of air to produce syngas (synthesis gas) which is then used to generate power. Gasification involves the partial oxidation of the waste, producing a syngas which is then used to generate power.
Strict Emissions Regulations
Even though waste incineration technology and emission control, in particular, have improved substantially over the past years, waste incineration produces harmful gases that need to be measured. Examples of gases that waste incineration can produce are:
carbon dioxide CO2
nitrogen oxides NOx
sulphur dioxide SO2
hydrochloric acid HCI
In addition to the gases mentioned above, heavy metals (e.g. mercury Hg) and fine particles can be released into the atmosphere during waste incineration.
The waste incineration plants are governed by strict emissions regulations. All waste burning plants, including small waste incineration plants, have to meet at least the stringent emissions limit, monitoring, waste reception and treatment standards brought in under the Waste Incineration Directive (2000/76/EC) which has been recast into the Industrial Emissions Directive (2010/75/EU).
Our Solution: Continuous Emissions Monitoring System CEMS
Gasmet is able to specify, design, install and commission complete integrated continuous emissions monitoring systems to ensure regulatory compliance and to inform process control. Our CEMS enables operators to monitor multiple gases and other process parameters such as particulates and flow, simultaneously.
Our two different continuous monitoring systems are:
The Continuous Emissions Monitoring System CEMS II e offers TÜV and MCERTS certified solution (QAL1) for a wide range of demanding emission monitoring applications. The CEMS II e utilizes Fourier Transform Infrared Spectroscopy FTIR technology. Gasmet CEMS II e is generally used to simultaneously measure the following 16 gases: H2O, CO2, CO, N2O, NO, NO2, SO2, HCl, HF, NH3, CH4, C2H6, C3H8, C2H4, and CH2O.
The Continuous Mercury Monitoring systems CMM AutoQAL and CMM have the lowest certified range in the world (0-5 µg/m3). CMM AutoQAL has an automatic and integrated QAL3 validation tool. Systems are perfect for monitoring mercury continuously from hot, wet and corrosive gas streams. The CMM system utilizes Cold Vapor Atomic Fluorescence (CVAF) technology.
We also have dioxin sampling system:
The Dioxin Monitoring system GT90 Dioxin+ MCERTS certified device designed for long-term monitoring of dioxin emissions in conformity to the European standard EN1948-1 and EN15267. The system represents the cutting-edge technology for dioxin sampling and fulfills all the requirements of the dioxin measurement standard.
Why choose Gasmet as your emissions monitoring partner?
Gasmet is an ideal partner for waste-to-energy plants. Here are the top 5 reasons why you should choose us as your partner:
Reduce risks with equipment that satisfy all regulatory requirements
Save money with minimal maintenance, operational costs, and calibration
Gain longevity of investment with a long lifetime expectancy
Future-proof your investment. With Gasmet's solutions, if there are additional requirements, new compounds can be added to the measurement setup without costly hardware changes.
Gasmet has a reputation for providing analytical expertise, supplying quality products and services
Note:
A new Best Available Techniques (BAT) Reference Document for Waste Incinerators (WI BREF) has been published. Read more here. Gasmet is following the processes of all upcoming monitoring requirements and emission limits.
GUIDE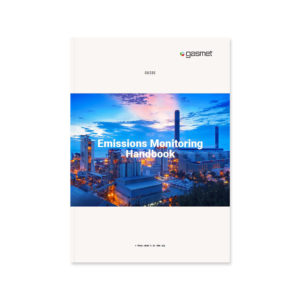 What you need to know about emissions monitoring
After reading the handbook, you will be familiar with:
> Industrial Emissions Monitoring & Suitable Technologies
> Quality Assurance
> WI BAT Conclusions for waste incinerators and co-incinerators
> LCP BAT Conclusions for large combustion plants
> Gasmet's Solutions for Emissions Monitoring
Increase your Emissions Monitoring knowledge by downloading the handbook free of charge!