Several EU directives and national laws in European countries set requirements for continuous monitoring of flue gas emissions at power plants. The demand for emission measurements has only increased in recent years and the trend will undoubtedly continue. It is therefore increasingly important for power plants to have reliable information available on the emission of air pollutants. A power plant's license to operate can even depend on it. Because the reduction of emissions to desired levels requires significant investments, the implementation of reliable measurement systems becomes increasingly important. Read about our solutions for compliance measurements!
EN 14181 Standard
Large industrial plants are required to have and maintain an efficient process of continuous emissions monitoring. In order to indicate that their processes are effective, and their emission monitoring systems meet the required criteria, there are carefully drafted EN Standards for assuring the high quality of permanently installed automated monitoring systems (AMS).
The relevant standard in this regard is EN 14181, the quality assurance of automated measuring systems. The standard dictates how to determine that the measurement systems installed for continuous emissions monitoring at a plant operate according to the directives and regulations set. To learn more, download our guide on Emissions Monitoring Handbook.
QAL2 and AST Procedures
Two major parts of this on-going quality assurance cycle are the QAL2 and AST procedures. A test laboratory performs tests on the systems on-site and determines whether the systems fulfill the set requirements or not.
The requirements of QAL2 cover the calibration of the CEMS / AMS against nationally approved analytical methods applied by a test organization accredited to EN ISO/IEC 17025 (and MCERTS in the UK) by a national body. This stage of quality assurance specifies the procedures to ensure that the continuous emissions monitoring system has been correctly installed, calibrated by comparison measurement and independently verified.
Annual Surveillance Tests (AST) are very similar to QAL2 test but are carried out in a smaller scale. These mini-QAL2 tests are functional laboratory spot tests that map out the performance of a CEMS. Their purpose is to verify the continuing validity of the calibration function, and the requirements and responsibilities for carrying out the AST tests are the same as for QAL2. Read more about quality assurance of continuous emissions monitoring.
FTIR Instruments in Stack Emissions Monitoring
The ability to detect and measure almost any gas, combined with the robustness and reliability of the technology, makes Fourier Transform Infrared (FTIR) spectroscopy ideal for a wide variety of applications. FTIR instruments are widely used for stack emissions monitoring. The ability to record spectra over a wide wavelength range, and analyze these to identify a number of different pollutants in a stack gas makes FTIR a useful technique.
The Environment Agency (EA) which is a non-departmental public body, sponsored by the United Kingdom government's Department for Environment has issued a Technical Guidance Note (TGN) M22 to provide guidance on the Environment Agency's requirements when using manual extractive Fourier Transform Infrared (FTIR) spectroscopic instruments to measure emissions of pollutants from industrial stacks. The TGN provides a procedure and framework to ensure the quality control and quality assurance of measurements made using FTIR as an alternative to several European standard reference methods.
Our Solution: DX4000 Portable Gas Analyzer
Gasmet manufactures robust and accurate, portable gas analyzers for a wide variety of applications. An FTIR analyzer works by simultaneously scanning the entire infrared spectrum. Our Calcmet software then calculates the concentrations of each gas in the sample based on the characteristic absorption. All the gases in the sample can be measured simultaneously because the entire infrared spectrum is scanned at once. This allows for very quick multicomponent measurements and for compensation for any cross-interference.
The Gasmet DX4000 can be used when you need a portable gas analyzer solution instead of continuous gas monitoring. It is a portable FTIR gas analyzer for applications where multiple gas compounds need to be accurately monitored in hot & humid sample gas. Gasmet DX4000 is the world's smallest FTIR emissions monitoring system. It has also received the coveted MCERTS certification for stack emissions monitoring.
Why choose Gasmet as your emissions monitoring partner?
Gasmet is an ideal partner for the aluminum industry. Here are the top 5 reasons why you should choose us as your partner:
Multicomponent capability – measure multiple gases simultaneously
Adding new gases is easy – no need for hardware changes
Emission monitoring systems are available with performance approvals (TÜV, MCERTS)
A portable FTIR analyzer allows you to take the lab to the site
Simple and low-cost calibration – Gasmet's analyzers do not need any span or re-calibrations, only zero calibration with nitrogen needed
G
GUIDE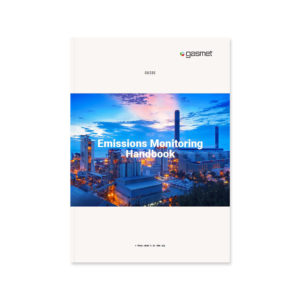 What you need to know about emissions monitoring
After reading the handbook, you will be familiar with:
> Industrial Emissions Monitoring & Suitable Technologies
> Quality Assurance
> WI BAT Conclusions for waste incinerators and co-incinerators
> LCP BAT Conclusions for large combustion plants
> Gasmet's Solutions for Emissions Monitoring
Increase your Emissions Monitoring knowledge by downloading the handbook free of charge!
Case: Thetford Power Station
"The system has performed very well, with very little maintenance required. Zero point calibration with nitrogen (background) just takes a few minutes each day and is fully automated. Water vapour calibration is conducted at least once per year, but under normal circumstances no other calibration is necessary." says Operations Team Leader Richard Bloomfield