Corporate sustainability creates long-term consumer and employee value by creating a strategy how a business operates in the social, cultural and economic environment.  It also formulates strategies to build a company that fosters longevity through transparency and proper employee development.
Our Corporate Sustainability Strategy
Society's challenges are our challenges. We proactively meet expectations from our important stakeholders through our commitment to responsible business and a culture of transparency. We seek to maximize our value to the broader world by doing things that fall close to our core competence.
We have created a sustainability strategy that has seven areas with guiding principles, commitments and goals. We strive for a balance between environmental, social and economic focus, a high degree of transparency and strong engagement in our corporate story.
Climate change
Emissions / air quality
Resource consciousness
Employee / public safety
Employer of choice
Good governance
Long-term growth and sustained performance
Impact Strategy
As part of our sustainability strategy, we recognize the need to engage in positive value creation together with our stakeholders, as basis for strengthened brand, relations and business. Our impact strategy has three focus areas with wider consequences to society, and where we have core competences that can be used more effectively:
Climate change
Emissions / air quality
Employee / public safety
Our impact on the UN's sustainable development goals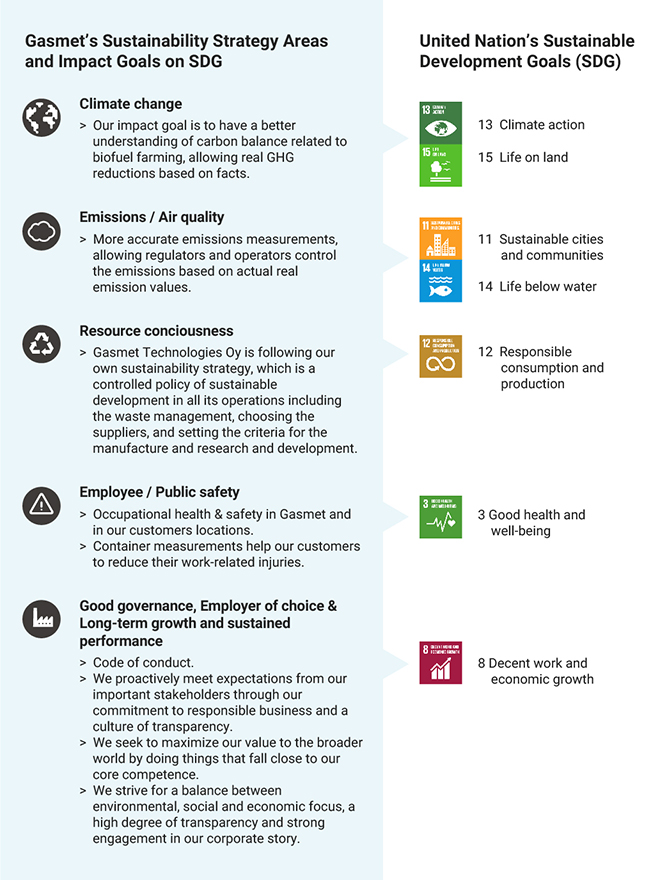 To stay on top of all things relating to environmental research and our greenhouse gas measurement solutions, sign up for our GHG newsletter. You will receive monthly research articles, videos, webinars, and other content relating to the GHG field.