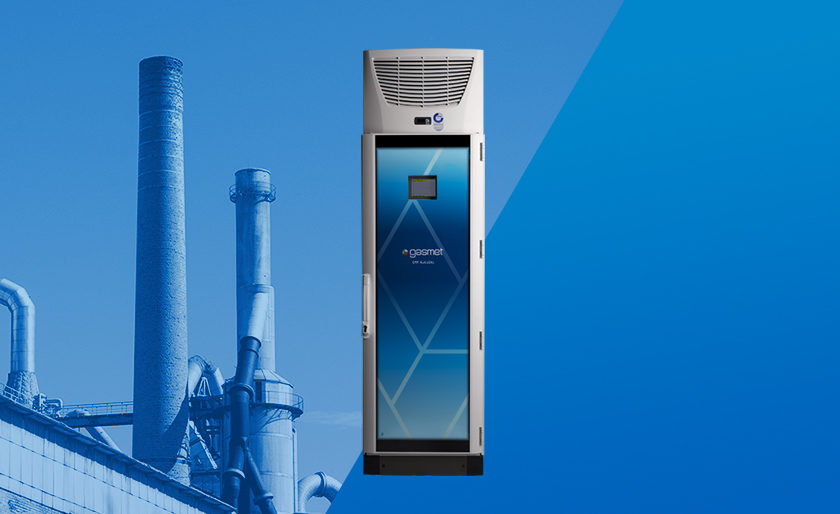 Stay ahead of the curve with Gasmet CMM systems — reliable Hg monitoring for the cement industry
When you choose Gasmet CMM and CMM AutoQAL systems, you get to work with the world's lowest certified mercury measuring range. That's not all. You also get the competitive edge that comes with automatic continuous monitoring, modular design, built-in quality assurance, years of expertise, and a whole lot more.
A true mark of a good emission monitoring system is how little you need to actively think about it. In the highly regulated cement industry where compliance and consistency are paramount, our Continuous Mercury Monitoring systems CMM and CMM AutoQAL run efficiently on autopilot, leaving you with time to focus on more important matters.
"Our high-quality devices are reliable, offer automated operations, and need minimal maintenance," says product manager Jyrki Korpela.
How low can you go? — Stay future-ready with the lowest mercury measuring range in the world
The permissible levels of gases that can go out into the air — dictated by strict EU-level regulations — are declining over time quite rapidly. The updated Best Available Techniques Reference documents on waste incineration (WI BREF) now demand stricter mercury monitoring on larger waste incinerators.
But with Gasmet you are future-ready — we have the lowest certified mercury measurement range in the world! In 2019, our CMM completed the EN 15267-3 testing using CVAF technology for the analysis of Mercury (Hg) and received certification for 0 to 5 µg/m3.
Being able to measure low values is a winning advantage during yearly third-party annual surveillance tests, sparing you the time, costs, and heartache of failed tests. So, essentially what we promise you is peace of mind.
When we say we have the lowest certified measuring range in the world, it also means we have the highest certified accuracy levels in the world. Our system is more accurate than you need today because you will require it tomorrow.
Can't stop, won't stop — Smart modular design to minimize downtime
One of the biggest challenges cement plant operators face when it comes to mercury emission monitoring is ensuring that the system is running continuously without any downtime to maintain compliance.
We are the only company in the market to offer continuous mercury monitoring system with a modular design, which means our device is made up of individual parts or modules that can easily be removed and replaced with spare modules in the rare event of something going wrong.
"The customer can do this themselves in a matter of minutes. You don't have to dismantle the whole device and can quickly get the system back and running while the faulty module is sent to us to be fixed," Korpela explains.
The CMM system that can do it all — in-built quality assurance optimizes time and money
Operators who run continuous mercury monitoring systems are also required to organize quality assurance checks by external test laboratories multiple times a year — a process that can be time-, cost-, and labor-intensive. With our CMM AutoQAL, you benefit from quality assurance integrated directly into the system, which means the instrument can run these tests and validate itself.
"The biggest advantage is cost-savings since these external test lab visits happen four times a year and can set you back something in the range of 6000 euros. By choosing Gasmet, you get a fully automatic system with built-in quality assurance at little running costs. All this at a small upfront investment that you can recover in just two to three years. After that, you are practically making money," quips Korpela.
Get a solution that can do both — a combination of cutting-edge technology and years of experience
Having the best continuous mercury monitoring system in the world alone means nothing unless you also have the expertise to support it and be available for the customers.
"Here at Gasmet, we only make gas analyzers, so emission monitoring is our core knowledge. Our people are experts in the field. We have also gained tons of practical experience from supplying and installing these systems for over 15 years. This includes knowledge of best practices during installation, how the systems function under different conditions, and how to ensure they are always up and running," Korpela says.
We offer dedicated support throughout the entire lifecycle of the instrument. It could mean anything from taking the customer through the basics of regulatory requirements, to consistently following up through the lifetime of the product to ensure everything is in order.
"If you ask our customers, they will tell you that customer service is one of our core strengths as a company. They always appreciate the availability of our people, which is particularly important in a field where we are required to measure round the clock," Korpela says.
---
Mercury Emission Monitoring – CMM & CMM AutoQAL

Continuous Mercury Monitoring systems CMM AutoQAL and CMM are the perfect solutions for monitoring mercury continuously from hot, wet and corrosive gas streams. These future-proof systems have the lowest certified range in the world (0-5 µg/m3) and CMM AutoQAL has an automatic and integrated QAL3 validation tool.